Engage International Audiences with
Marketing Translation and Localisation
Goodman Lantern's marketing translation and localisation services will make your brand sound as fluent as a native speaker.
International brands use specialised marketing translation and localisation to adapt their marketing and advertising content to achieve maximum engagement with their target audiences worldwide.
Many of today's brands aim to have a strong presence in international markets while also reaching audiences locally. This means speaking the same language and understanding the local society and culture.
Awareness of the specific nuances is crucial, which is why excellent translation, localisation, and transcreation services are the way to go.
Localisation and transcreation are about adapting your content to the socio-cultural context, identifying and focusing on the points that appeal to your target audience. A good service provider will also help you to avoid using culturally unsuitable names and slogans or making other embarrassing mistakes.
Why Is Marketing Translation
and Localisation Important?
In a globalised world, many companies compete internationally and have to adapt their content to the different markets, countries, and cultures in which they operate.
When it comes to marketing content, today's international businesses need to ensure that local audiences notice and engage with their brands, ultimately establishing long-term relationships.
This situation means that literal, word-for-word translation—however technically accurate it may be—may not always be the right approach. Instead, you need to truly understand the culture of a country, region, or area: the idioms, connotations, and taboos that only native speakers will pick up.
Goodman Lantern's marketing translation and localisation services will ensure your brand speaks the same language as your target audience. Partner with us, and your messages will be impactful, culturally sensitive, and on-brand in all the regions, languages, and cultures you target.
Marketing Content We Translate
As a specialised marketing translation agency, we provide professional
translation services across multiple industries for various marketing and
advertising needs. Whatever marketing materials you use, we'll ensure your
brand is noticed in every market by your target audience.
Websites
Whether you need to translate your corporate website, eCommerce site, intranet, or website for a specific brand, campaign, or product, we'll translate and localise the content accurately and reliably to reach your customers.
Brochures
We'll translate your product and service brochures and leaflets, making them the perfect showcase for your offerings in all your various target markets.
Advertisements
Reach your target customers in their countries, in their languages. Our team will ensure your advertisements have the same impact, maintaining your brand reputation and image wherever you're doing business.
Press Releases
Make your press releases accurate and suitable to the local context and languages, with no loss of information or ambiguities.
Market Research
Are you running polls, surveys, quantitative and qualitative studies, or focus groups? We'll translate these powerful market research tools into the languages your target audience will understand.
Presentations
We translate presentations to any language and adapt them to the local context, ensuring they remain as impactful as initially intended.
Labelling and Packaging Information
Accuracy and clarity are essential when it comes to labelling and packaging. We focus on every detail, ensuring compliance with the relevant regulations and guaranteeing transparency for your audience.
Product Catalogues
Explain your offerings to your potential customers anywhere in the world in their languages, accurately providing all the information and specifications they need to use your products.
Our Marketing Localisation
Solutions
Why You Should Choose Us
Our team of specialised marketing translators and localisation professionals come from many different countries. Each provides the linguistic skills and cultural know-how to ensure your content has an impact, no matter who you try to reach.
We're flexible, reliable, and knowledgeable, and we love working closely with our clients to meet their targets. So let us know your marketing translation and localisation needs, and we'll provide you with tailor-made support.
Different Translation & Localisation Services
We work with clients from different industries at various levels, with very
different translation and localisation needs and requirements. So if you have
something specific in mind, please get in touch, and we'll be happy to find the
solution that best suits your needs.
Legal & Certified Translation
Our team of specialised translators provide fast, accurate, and reliable translations of legal texts and documents.
Game Translation & Localisation
Gaming is a fast-growing industry, and games often have to be translated and localised for very different cultural contexts. We have the knowledge and expertise to ensure a seamless translation and localisation journey.
Content Localisation
Let's adapt your content to the local culture so you can fully engage with your target audience.
Language Translation and Localisation
We provide general translation and localisation services for all your needs. Our qualified linguists and translators will go the extra mile to meet your standards.
Software Localisation
Software and IT terminology can be very specific, depending on the country and language. Our technical translators are experienced in providing reliably accurate, localised solutions for software companies.
Website Translation and Localisation
We can translate your website into as many languages as your company needs, adapting all the pages to the local context.
Translation Proofreading and Editing Services
Ensure that your translated documents are up to standard. Our team of proofreaders and editors will polish your translated content to help you make a good impression.
Interpretation Services
Do you have a multilingual video or telephone call scheduled? Are you running an international conference? We can provide qualified, experienced interpreters.
Multilingual Desktop Publishing
We'll maintain the formatting of your content so you can reach your global markets in the most impactful way possible.
Transcreation Services
Goodman Lantern's transcreation services help brands reach new audiences. Our team can help you to create content that includes cultural references and other information specific to your target consumers.
Languages We Translate
Using our translation services will allow your business to relate information accurately
across languages. But, critically, we'll keep your core marketing messages intact and
accurate.
Spanish
French
Italian
German
Dutch
Portuguese
Chinese
Japanese
Our Clients Love Working With Us Because We Believe in Collaboration
At Goodman Lantern we're all about building long-term, successful relationships with our clients. We take the time to get to know their business AND the people behind the brand. In true collaborative spirit, we do everything we can to tell your story and help your business grow.
"Goodman Lantern has an unparalleled level of skill and talent, coupled with a keen understanding of implementation."
"Whenever we've provided feedback or suggestions they have always been receptive and open to making changes."
"We are delighted with our collaboration with Goodman Lantern because, in addition to always delivering the content on time, they have also been extremely responsive to all our requests. Moreover, it was a real pleasure to work with a team that is both very professional and fundamentally human."
Marketing Translation & Localisation Services
FAQs
Does your team have professional experience in marketing and advertising?
Yes. Our team members include qualified, licensed translators and linguists and marketing, advertising, PR, and communications professionals.
My project needs a specific solution that your website doesn't cover. Can I discuss it with you?
Of course! We're always happy to work with our clients to find customised solutions that meet their needs.
We need to translate the names of some of our products/services into a different language. Can you help with this?
Yes. We can advise you on culturally appealing terms and references in your target market while ensuring you don't make any unintentional faux pas.
Is your marketing translation and localisation team local to every country you work in?
We work with a global team of professionals in many different countries. Our networks and resources provide truly local services.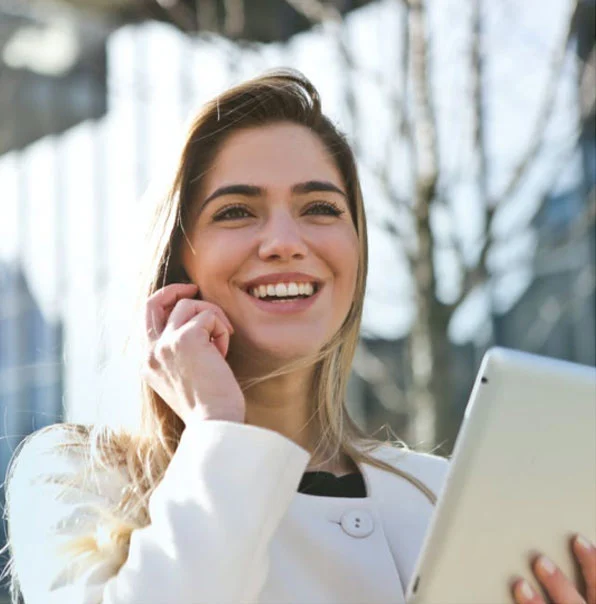 Get in Touch
When you're ready to take your business localisation to the next level, get in touch with us to help you do it. Our Translation and Localisation services ensure a seamless transition as you adapt your business for a globalised audience. To learn more, schedule a discovery call with us today.
We've helped develop the voice behind
Hundreds of Businesses