What Is Translation,
Localisation, and Transcreation?
Translation is the process of converting a written text from one language into another. The goal is to produce a written text in the target language that accurately and effectively conveys the meaning of the original text. Translation is used in a variety of contexts and can be performed by professional translators or through the use of machine translation software.
Content localisation, on the other hand, is the process of adapting copy to meet the language, cultural, and other specific requirements of a particular country or region. This can involve translating the content of a product or service into the local language, modifying images, videos, and other visual content to be culturally appropriate.
Transcreation is a form of creative translation that goes beyond a straightforward translation of words and phrases to capture the essence and tone of the original message in a culturally relevant and meaningful way to the target audience.
Why Do Companies Invest in Translation,
Localisation, and Transcreation?
Companies invest in translation, localisation, and
transcreation for a number of reasons, including:
Access to new markets: By adapting their content for specific languages and cultures, companies can reach new customers in international markets, increasing their global reach.
Improved customer experience: By providing content that's localised and culturally relevant, companies can improve the experience for their customers, making it easier for them to use and understand their products and services.
Increased brand awareness and loyalty: A well-executed localisation or transcreation campaign can help increase brand awareness and build customer loyalty, as customers appreciate the effort made to cater to their specific needs and preferences.
Competitive advantage: Companies that invest in localisation and transcreation can differentiate themselves from competitors.
Different Translation & Localisation
Services
Our Various Translation, Transcreation, and Localisation Services
As an agency specialising in localisation translation services, we offer a range of services that cater to a wide range of industries. We design each service to fit your unique business and offerings and attract your desired target audience, no matter where they're situated.
Marketing Translation, Transcreation, and Localisation
Content marketing is an effective way for brands to reach their target audience. Remember: nobody reads ads anymore, they read what interest them.
We offer expert translation and localisation services to bolster conversions for clients worldwide. Localising your content and offerings, whether a service or product, allows you to cater to a foreign audience.
Our professional translation, transcreation and localisation team can take your marketing efforts to the next level in any language.
Legal and Certified Translation
Legal businesses risk tarnishing their credibility with content translations that aren't accurate. As a worldwide team specialising in professional multilingual translation services, we can help you render every word accurately into your chosen language.
All our efforts and work are completed to the best of our internal knowledge base and remain legal and certified. Whether you require simple, intricate, or sensitive translations, we have you covered.
Game Translation and Localisation
Developing a video game is a lot of work. However, sharing and marketing it globally poses another challenge for businesses. Fortunately, Goodman Lantern helps you modify your language and text while updating your entire project to suit a foreign audience.
With extensive experience in game translation and complete localisation, we can help you tell the story of your newly released game in various languages to a wide range of cultures across the globe.
Content Localisation
While content is one of the top business tools to convert customers, it can get lost in a sea of similar marketing content. If you're looking to expand your audience range and require localisation to appeal to a target audience in a foreign country or multiple different countries, we can help you.
Our multi-skilled, multi-lingual team of professionals understands the localisation process and can cater to your needs.
Language Translation, Transcreation, and Localisation
Inaccurate translation and sloppy writing is a surefire way to lose the attention of new audiences. Our team will help you translate and render your marketing efforts into your chosen foreign audience's cultural identity and language. We do this for videos, text, or audio.
We can help translate every word to relay accurate messaging and meaning while adapting your website to cater to an entirely new audience base.
Software Localisation
All your hard work in developing new software can be wasted when consumers can't understand what you're offering.
Our specialised team of localisation experts can help you adapt your software product descriptions and content. We can help you match your globalised target market's cultural, linguistic, and technical requirements to your offerings, helping you to grow your software or SaaS business.
Website Translation and Localisation
Your website is your anchor in the digital marketplace. As such, mistranslated website text can be a barrier to sales. We'll give you powerful and insightful translation and localisation services to appeal to a broader audience range, including a new foreign target market.
Let's help you transform your website to cater to a global audience range, from every word to every aspect of your website, including images, colours, and cultural factors. We can help you build an entirely new audience, no matter where they're based.
Proofreading and Editing
Even the smallest grammatical, structural, or punctuation errors can damage your business's credibility. We offer expert proofreading and editing services in a multitude of languages.
If you've developed new content you wish to share with the world, let's help you tell your story and share your message in the most culturally respectfu, and accurate way possible.
Our professional editors understand the complex nature of translation. They'll ensure your content is written elegantly, specifically catering to your foreign audience range.
Interpretation Services
Consistent messaging is key to establishing your brand in a new market. However, confusing or contradictory content can compromise your brand image over time.
Our expert interpreters are here to help you relay your message clearly to a foreign audience. Goodman Lantern's professional interpretation services can transfer entire linguistic aspects to help you or your client understand a message.
Multilingual Desktop Publishing
Translation and localisation don't end at website modification or language rendering. You may also require design publishing services to ensure your visual elements appeal to your target audience.
Our professional team of designers and translators team up to provide our clients with the best multilingual desktop publishing services to transform your design aspects and convert people and prospects worldwide.
Transcreation Services
Often the main challenge in connecting with a new audience is generating an emotional response. Our transcreation services produce content for businesses with this goal in mind.
The Goodman Lantern transcreation process involves thorough cultural research. Our writers create inbound marketing content in a new language, complete with style and substance. When partnering with us, you'll gain the tools to expand globally.
Languages We Translate
Goodman Lantern's translation services are comprehensive enough to fit
within most businesses' content strategies. That's why we make sure to
cover a wide range of languages.
We offer translation and localisation of content in the following languages:
- Spanish
- French
- Italian
- German
- Dutch
- Portuguese
- Chinese
- Japanese
Our Process
Our Translation, Transcreation, and Localisation Process
At Goodman Lantern, we've streamlined our translation, transcreation, and localisation
process to bring you the highest quality service.
We appoint a professional team of experts to your project and a manager that will provide you
with regular updates on our progress. You can request a revision session at any point in the
process if you're not satisfied with the work we're producing.
Content Analysis
We analyse your content and create a plan to fit your business needs and target audience.
Content Management
Our team of content creators gets to work on managing your content to achieve your business requirements and goals.
Three-Step Translation Process
Our three-step translation process includes initial direct translation and editing to ensure tone, messaging, and meaning accuracy, and proofreading to double-check that everything is in order.
Publishing
We review and polish your design to ensure it meets the criteria of your foreign target market.
Back Conversion
We ensure your sales funnel and conversion process is up to scratch and will attract and engage your foreign target audience.
Speedy Delivery
We guarantee every project and phase is delivered on time.
Finalisation
We hand over our work for your approval.
Sectors We Serve
We offer language localisation and direct translation services to a
wide range of industries, including:
Banking, Finance and Insurance
Finance and insurance is a fast-growing industry. Offer your services to an expansive audience range with professional translation and localisation services that will help your business reach every corner of the world.
Healthcare, Pharmaceutical and Medical
Healthcare isn't the same in every part of the world. As such, your business may require a nuanced approach to content creation, which our translation and localisation services can offer.
Legal
Offer invaluable legal services with a strong brand and website with our translation and localisation services. Let's help you cater to a new audience and grow your business.
Education and Training
Education and training is a critical sector in all economies. We're proud to help these businesses communicate clearly as they expand into new areas.
Manufacturing, Engineering and Technical
Share your technical expertise with a global audience while boosting conversion rates with our services. We specialise in B2B content.
Public Sector
Even government-associated businesses can benefit from professional translation and localisation services. We can help you reach your target audience with high-quality, tailored content.
Marketing, Advertising and PR
Widen your reach, appeal to a foreign or even global audience, and seal more deals worldwide with our expert marketing translation and localisation services.
Media and Entertainment
Let's help you share your story with a globalised audience base with professional translation and localisation services, from games and videos to social media posts.
Sports and Sporting Events
Sports events can be a powerful marketing tool for attracting audience engagement. Our translation and localisation services help businesses grow their viewership.
Leisure and Tourism
By its nature, the leisure and tourism industry lives and breathes by appealing to a global audience. We help you achieve this with expert translation and localisation services.
What Our Translation and Localisation
Services Include:
Tech Support
Access expert technical support to ensure all the SEO, website development, and technology-driven aspects of your project are taken care of.
Content Management
Guarantee all forms of content are up to date with the help of our expert content creators and researchers. Tap into the latest digital trends and speak directly to your target market.
Transcreation
Create content in a new language from scratch, ensuring the style, tone, and meaning remain firmly in line with your brand identity.
Transcription
Capture the ebb and flow of natural human conversations with our expert transcription processes that remain relevant and accurate.
Voice-Over and Subtitling
Benefit from expert voice-over translation, narration, and subtitling services for any audio-based content.
Client's Brief
Convert and translate a client's brief to help them reach their audiences with content.
Marketing Collateral
Ensure all your marketing collateral is expertly translated and localised by a team of specialists.
Function and Linguistic Testing
Ensure all translations and localisation efforts are accurate by doing in-depth function and linquistic testing.
Our Clients Love Working With Us Because We Believe in Collaboration
At Goodman Lantern we're all about building long-term, successful relationships with our clients. We take the time to get to know their business AND the people behind the brand. In true collaborative spirit, we do everything we can to tell your story and help your business grow.
"Whenever we've provided feedback or suggestions they have always been receptive and open to making changes."
"Outsourcing everything to their company has been a big relief."
"We are delighted with our collaboration with Goodman Lantern because in addition to always delivering the content on time, they have also been extremely responsive to all our requests. Moreover, it was a real pleasure to work with a team that is both very professional and fundamentally human."
Translation and Localisation FAQs
Are Your Translators In-Country?
We have a global workforce. As such, some translators may live in your country. However, some of our translators may also live elsewhere.
Do You Have Any Previous Work I Can See?
Can You Translate and Localise Entire Websites?
Yes, we offer professional and expert website translation, transcreation, and localisation services.
Who Owns the Copyrights to Work Produced?
As the customer, you receive full ownership of all work produced.
How do I Know Your Translations Are Accurate?
Our team of expert translators hail from various places around the globe, and each holds extensive experience in their space of expertise. We also place an editor on your project to ensure all translations are accurate.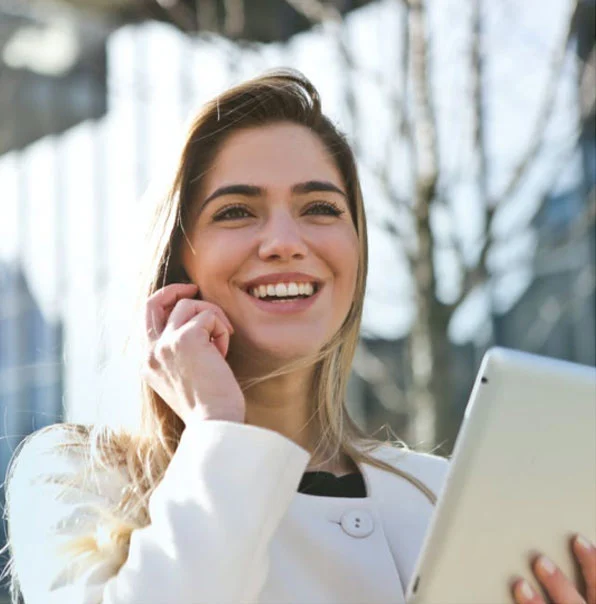 Get in Touch
Ready for your business, product, and services to reach an entirely new audience range, no matter where they're based? We're here to help you do so with ease. Book a consultation call or email us today, and we'll get started on transforming your brand to appeal to a foreign target market.