What do we mean by Internet of Things?
The Internet of Things (IoT) is a broad term that links everything connected or connectable to the internet.
It covers software, hardware, data, devices, and other technologies that thrive through the world wide web.
The future of the IoT space is bright
The IoT industry is constantly evolving as people's internet and data needs change. But one thing is for sure, it's not slowing down.
In fact, it's becoming popular across all fields including medical, manufacturing, transportation, and more.
The role of content in the IoT space
The internet of things (IoT) genuinely improves people's lives. But without content, people won't know this and won't know how to use IoT systems to their full capacity.
With content, companies in this space can increase their share of voice
Content can generate leads for IoT businesses
Information, blogs, and articles can explain how IoT fits into our everyday lives
IoT makes it easy for companies to collect data from their customers. With content, you can use this data to target specific customers and people.
How Can We Help You Grow?
Goodman Lantern delivers a professional content writing service at scale
Our content writers specialise in crafting engaging content for many different verticals within the IoT industry. Our content writing and editing services cover a wide range of content formats, such as white paper or article writing services.
Content that educates and converts
We create relevant messaging that not only attracts leads through educational and informative content, but also helps to convert those prospects into paying customers.
We make your industry easy to understand
We develop content that helps simplify IoT buzzwords.
We create a trusted digital presence
We create digital and online content that engages and informs consumers in a manner that inspires trust and wins a dynamic market.
We showcase the benefits of your business
Our expert article writing services educate potential customers on the benefits of IoT services
Case Studies
Read all about our work for our clients in the case studies below.
We create content that attracts new business
A European robot technology company reached out to Goodman Lantern's professional writing team, seeking assistance with the creation of a high-value product safety brochure. More about that
Read more about our work here
We create marketing strategies
Goodman Lantern's Content Services Help SaaS FinTech Increase Market Share. Read their story
Read their story here
Our Clients Love Working With Us Because We Believe in Collaboration
At Goodman Lantern, our focus lies in fostering long-term, thriving relationships with our clients. We invest the time to truly understand not only their business but also the individuals driving the brand forward. Embracing a spirit of collaboration, and we are dedicated to supporting you every step of the way.
"We were very happy with their work, so we moved on to technical maintenance and the development of an internal project management system with them."
"They helped me get on Kickstarter and produce video presentations and outreach videos for our different campaigns. They also did all of our social media work, driving traffic to the Kickstarter campaign and contacting lists of businesses in the pool industry. They helped us run a $45,000 campaign over two months."
"The first project I did with Goodman Lantern was about hard to obtain data. That being said, my client won the bid, so the meeting was a great success. I received great praise for being able to pull off something so fast. It was very professional, cost efficient and we got the partnership deal."
Pricing Plans
We tailor-make packages and pricing structures to suit your budget. No matter what your content needs, we can work out a plan perfectly aligned with your requirements.
Here's how our professional
content writers can help you
At Goodman Lantern, there are a number of factors that make us
perfectly suited to be your preferred content marketing agency.
A wide network of native English content writers
Our large team of native English copywriters and editors have in-depth knowledge of your geography and industry. We have vast resources at our disposal, available to work across different time zones. So, no matter where you are based, we have a team that is able to assist you.

SEO expertise
Our team is in the know about the latest in SEO rules and expectations. We write all online pieces with best practices in mind so that over time, your business ranks high in search results.

High Lead Generation
With our professional content writing and editing services, we develop solid leads for your team to follow up on. Many of these leads turn into customers. All of this because of top-quality content.

Experts at What We Do
Our content writers and editors are all experienced journalists and media experts. Along with our content team, we also have business experts that we lean on for business growth ideas and advice.

Ahead of The Trends
We are on top of industry trends and know how to use these to grow your business through content. We ensure that your business is ahead of the trends, too.

Professional service
No matter what your content needs are, we are able to create and deliver on time and with professionalism. We never miss a deadline and we work with you to ensure that we not only deliver according to the brief, but that we exceed expectations.
IOT FAQs
How do you approach content writing for IoT Companies?
Internet of Things (IoT) is a technology that enables the exchange of data with several interconnected devices and systems. It prioritises seamless communication and connection, much like our IoT content writing services.
We are a full-service writing and editing agency that offers a streamlined approach to content. We bring together all aspects of content marketing under one roof, from strategy and planning to content creation to distribution. Just as you help your clients save time, money, and energy with automation, we do so with high-quality content.
What types of IoT companies do you work with?
IoT technologies have applications in several industries such as logistics, energy, transportation, healthcare, agriculture, and many more. We work with M2M services, mobile IoT startups, BLE manufacturers, and GNSS producers, amongst others.
The Goodman Lantern team recently worked with a robotics engineering firm that specialises in warehouse automation. Our IoT content writers crafted a well-written product safety brochure that was engaging and educational. So, whether you are in cloud computing IoT, NFC-enabled devices, or Industrial IoT – our writers can help you out.
What do Goodman Lantern's IoT content writers bring to the table?
Our team of IoT content writers is made up of industry experts and seasoned content specialists. We are well-versed in various industry niches, common verbiage, and the latest trends. We use our skills and specialisations to create SEO content that meets the highest standards of content.
Our content reflects our knack for writing simple yet striking copy that attracts a wide audience and inspires them to take action. We take the time to understand your company, its products, and its voice so that the content we write for you feels truly authentic.
What IoT blog topics are your writers familiar with?
Blogs help customers that are unfamiliar with IoT to get a footing in the industry and understand your products better. They also give industry professionals and IoT enthusiasts somewhere to get reliable and exciting new knowledge.
We can help you fill your blog with in-depth business research, unique industry insights, and case studies. Our team of talented writers and editors can pen compelling blogs on everything from innovative product applications to the difference between Cellular LPWA, NB-IoT, and LoRaWAN.
How do I use content to make IoT technology more accessible?
IoT is at an exciting stage where the concept is established but its applications are only just beginning to be discovered. A great way to connect with your audience is to make the technology feel accessible to them. If they understand the product better, they can make more informed purchases.
We try to show the value of your product and how it can make your customers' lives easier. By shaping the customer perception through easy-to-understand, positive content, we clarify concepts in engaging ways to build a relationship with them. This brings prospects one step closer to becoming loyal customers.
How does high-quality content help my business?
The IoT sector is rapidly evolving, and with it comes more products and more competition. Investing in original content not only separates you from your competitors but also helps attract and retain customers. However, it is not just about originality. Content needs to be tailored to your company and your customers.
We help craft high-quality, memorable content and distribute it to the customers throughout their buying journey. Thus, we give you plenty of opportunities to guide their decision and prompt buy-in.
How do I get started?
Learn more about our IoT content writing services today! Book a call with us and find out how we can help grow your IoT business. Reach us at +44 3300270912 or email us at info@goodmanlantern.com.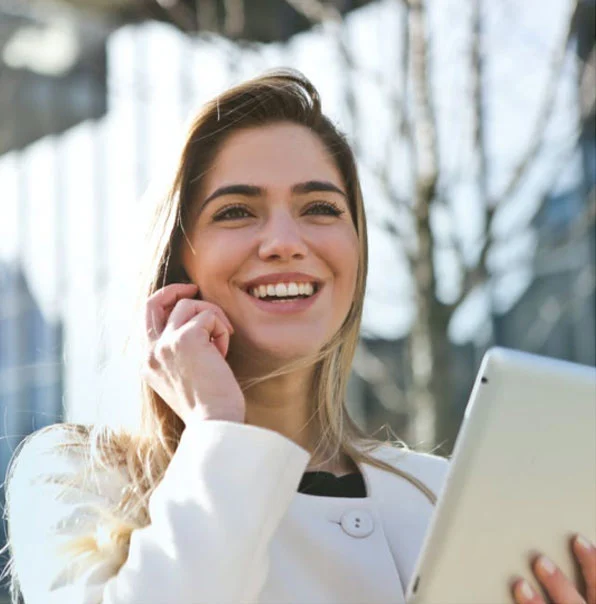 Get in Touch
Book a call with us today and find out how we can help grow your business. We will assist in planning a way forward, look at what your business needs are and develop a content plan accordingly.