SaaS is becoming an increasingly important industry around the world
As more people rely on cloud and subscription-based services in life and at work, SaaS is becoming an increasingly more relevant industry.
By providing access to software and information from the user's device of choice, it's fair to say that SaaS businesses are user-oriented. SaaS models enable people to enjoy affordable, subscription-based technology, but some companies in the industry fall short on the content front.
That's where copywriting professionals come in. With our team of established writers, we help you to close any gaps between your SaaS and your success.
Innovators Are Rising to Meet
Growing Demands for SaaS
Technology
While SaaS as a concept has been around for decades, it's only in recent years that it has become more mainstream. The increase in demand for Software as a Service brings an invitation for innovators to streamline their efforts.
Thanks to better infrastructure, easier access to the internet, and more affordable services, the industry will continue to grow, especially with the recent hike in remote work. A growing industry means growing competition. Your service, as well as the words you use to describe it, are what set you apart from the crowd.
SaaS Businesses Need to Get The
Word Out, and We've Got The Right
Words for You
Here are just some of the ways in which content can help your SaaS business grow.
The affordability of SaaS services, and many other selling points, are best explained through carefully curated content.
Moving to a subscription-based way of living and working is exciting. With the right content, you drum up the hype among prospects, resulting in increased sales leads.
Content is what SaaS companies use to highlight the benefit and value their services add to people's lives.
Very often, customers aren't using SaaS companies and services to their full potential. With the right content, you are able to highlight how customers can better use your services and products in their lives.
How Can We Help You Grow?
Goodman Lantern deliver a professional content writing service at scale
We assist SaaS companies in leading online conversations within this highly innovative sector.
We highlight the benefit of your industry
We create educational pieces that showcase how your company makes life easier for those who use your services.
We make jargon easy to understand
We use content to explain any difficult-to-understand terms associated with the SaaS space.
We use research to highlight what you do
With our guide and article writing services we can help you demonstrate the benefits of what your SaaS company offers.
We use content to add value
We write pieces with tips and advice that people can action when they make use of SaaS businesses.
See How We Helped a B2B Business
Scale x10 in the Video Below
Case Studies
Read all about our work for our clients in the case studies below.
We can help grow your company's brand and influence in the market
Our content services helped a SaaS FinTech company increase market share.
Read more about our work here
We can create product content to entice new business and customers
A European robot technology company reached out to us to create a high value product safety brochure.
Read their story here
Our Clients Love Working With Us Because We Believe in Collaboration
At Goodman Lantern, our focus lies in fostering long-term, thriving relationships with our clients. We invest the time to truly understand not only their business but also the individuals driving the brand forward. Embracing a spirit of collaboration, and we are dedicated to supporting you every step of the way.
"The website Goodman built met expectations and the project management system is easy to use and saves time."
"The communication is excellent and you receive responses within 24 hours."
"One of the tasks was to understand what the salaries paid for e-commerce logistics drivers are in all UK-based companies. The result they delivered was a very detailed Excel spreadsheet with a lot of raw data that I needed and could use to build a very efficient slide deck that was used in pitching to the multinational partner company."
Pricing Plans
We tailor-make packages and pricing structures to suit your budget. No matter what your content needs, we can work out a plan perfectly aligned with your requirements.
Here's How Our SaaS Content
Writing Experts Can Help You
At Goodman Lantern, there are a number of factors that make us
perfectly suited to be your preferred content marketing agency.
A Wide Network of Native-English Content Writers
Our large team of native English copywriters and editors have in-depth knowledge of your geography and industry. We have vast resources at our disposal, available to work across different time zones. So, no matter where you are based, we have a team that is able to assist you.

SEO expertise
Our team is in the know about the latest in SEO rules and expectations. We write all online pieces with best practices in mind so that over time, your business ranks high in search results.

High Lead Generation
With our professional content writing and editing services, we develop solid leads for your team to follow up on. Many of these leads turn into customers. All of this because of top-quality content.

Experts at What We Do
Our content writers and editors are all experienced journalists and media experts. Along with our content team, we also have business experts that we lean on for business growth ideas and advice.

Ahead of The Trends
We are on top of industry trends and know how to use these to grow your business through content. We ensure that your business is ahead of the trends, too.

Personal attention
No matter what your content needs are, we are able to create and deliver on time and with professionalism. We never miss a deadline and we work with you to ensure that we not only deliver according to the brief, but that we exceed expectations.
Saas FAQs
How do you approach content writing for SaaS companies?
The success of SaaS companies depends on how well they can attract customers and retain them. The greatest financial gain comes from establishing loyal customer relationships, as recurring revenue is the key to sustainable growth. We craft a content marketing strategy that helps our customers do exactly that.
Our team writes informative and catchy content geared towards raising activation rates. We show your audience the value your product brings to their lives. We complement that with a robust content distribution plan that shares memorable content throughout the customer lifecycle. By promoting the right content at the right time, we keep your customer churn rates low and customer lifetime values high.
What types of SaaS companies do you work with?
We work with a diverse range of SaaS companies. Our clients have created innovative solutions for e-commerce platforms, communication channels, payment gateways, and more. So, whether you work in Customer Relationship Management (CRM), Enterprise Resource Planning (ERP), or Project Management – we can write relevant content tailored to your audience.
While our clientele solves various problems in diverse spheres, the common thread is that they pour a lot of effort into their product and brand. So, it can be hard to make content a priority. This is where we come in. We take the burden off them by delivering high-quality, consistent SaaS content at scale.
What do Goodman Lantern's SaaS content writers bring to the table?
Goodman Lantern's team of SaaS writers are industry experts and seasoned content specialists. We are well-versed with market insights, industry verbiage, and latest trends. We use that to write SEO content that meets the highest industry standards. By working collaboratively, we combine our substantial experience and expertise to create content that gives your brand a sense of credibility and drives continuous growth.
However, our superpower is our commitment to understanding your company, its ethos, and its voice so that the content we write for you feels truly authentic.
What SaaS blog topics are your writers familiar with?
Our SaaS content writers have written a wide variety of blogs. We cover broad topics such as the financial benefits of SaaS to the importance of user interface. We also write educational pieces on how to calculate the ROI of implementing SaaS and why you need open standards and APIs.
Our team has developed detailed whitepapers in IT management, informative blogs on private investigation software, and engaging articles on business intelligence platforms. With something as fascinating and versatile as SaaS, we could never run out of things to write about.
How would your SaaS writers prepare to write for my industry niche?
Our team of talented writers works with many SaaS businesses and understands the nuanced challenges they face. Before beginning any project, we do a deep dive into the client's industry niche to understand the market peculiarities, the target audience, and the preferred content channels.
Every project adds to our considerable industry know-how, which we are constantly updating to best cater to the needs of our clients.
How does high-quality content help my business?
Original content is an effective marketing tool that will never diminish in importance. By sharing information on your product, giving insights into the industry, or even, talking about latest trends – you get a direct line to your customer. Through this, you can build a relationship with them that goes beyond selling them a product or a service.
Investing in high-quality content is one customer acquisition cost that pays off in the short and the long term.
How do I get started?
Book a call with us today and find out how we can help grow your SaaS business. Reach us at +44 3300270912 or email us at info@goodmanlantern.com.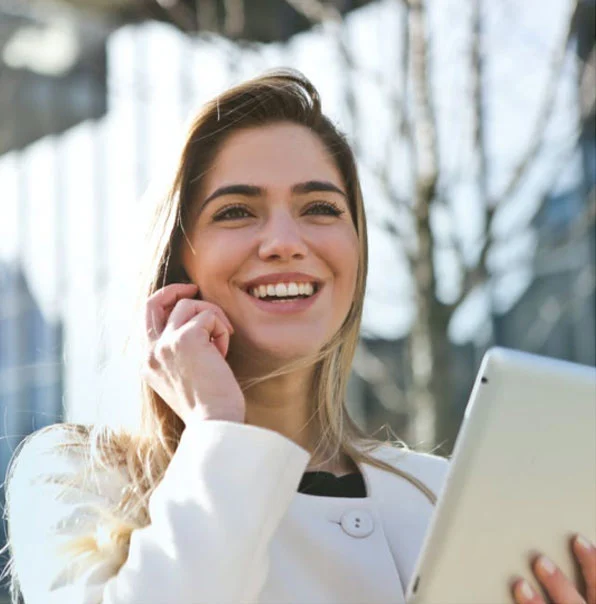 Get in Touch
Book a call with us today and find out how we can help grow your business.