Aerospace and Defence Has Always Been A Competitive Market
This industry is under constant pressure to innovate, adapt to new demands, and overcome tough challenges.
It pushes companies to churn out a diverse range of products and services. This makes for a market that attracts an equally diverse customer base. It is crucial that companies stay ahead of the curve and market their products well to achieve success in a competitive industry.
Our Aerospace and Defence content writing team mirrors that as we regularly update our knowledge base and come up with better marketing strategies. We use our advanced skills to position our clients as true industry leaders.
The Aerospace and Defence
Industry Can Go Above and
Beyond With Social Initiatives
The Aerospace and Defence industry is leaning towards creating a better public persona. Besides being innovative and progressive, companies want to show their responsible side. Businesses are growing more and more aware of the environmental impact of their products and are actively trying to do better.
This is tied with an increase in their initiatives in community service and corporate responsibility. With a holistic content marketing strategy, companies can show their customers the excellent work they are doing outside of what is required of them.
Get the Word Out With
Aerospace and Defence
Content Writing
Here are just some of the ways in which content can help your Aerospace and
Defence business grow
Aerospace and Defence companies use social media content to promote their products, share industry insights, and spread their latest news through an interactive and relevant medium.
Website content creates a smooth and straightforward digital experience to entice potential clients, customers, and collaborators.
Effective content distribution channels help businesses create meaningful connections with buyers, manufacturers, and other partners in the industry.
Companies publish informative content such as blogs, articles, and digital content on their products and projects so that the customers get accurate information from the right sources.
How Can We Help You Grow?
Goodman Lantern offers a wide range of content writing services
As a full-service content marketing company, we take care of your every content need, from blog and article writing services to complete distribution strategies.
We make your brand accessible to your audience
Our Aerospace and Defence technical writers craft valuable and easy to understand content that is free of jargon.
Our content distribution strategy effectively connects with your customers
We capture the attention and interest of your target audience by distributing content through the appropriate content channels and platforms.
We craft content relevant to your audience
Our talented team of content writers helps you forge new customer relationships and deepen existing ones with impactful and persuasive content.
Case Studies
Read all about our successful projects in the case studies below.
We can help grow your company's brand and influence in the market
Our content services assisted an international SaaS FinTech company to increase their market share.
Read more about our work here
Using regular content, we can help increase your website traffic
An e-commerce software firm needed our services to create a regular influx of long form content to educate their audience.
Read their story here
Our Clients Love Working With Us Because We Believe in Collaboration
At Goodman Lantern, our focus lies in fostering long-term, thriving relationships with our clients. We invest the time to truly understand not only their business but also the individuals driving the brand forward. Embracing a spirit of collaboration, and we are dedicated to supporting you every step of the way.
"Goodman Lantern has an unparalleled level of skill and talent, coupled with a keen understanding of implementation."
"Their project management system blew me away."
"We are delighted with our collaboration with Goodman Lantern because in addition to always delivering the content on time, they have also been extremely responsive to all our requests. Moreover, it was a real pleasure to work with a team that is both very professional and fundamentally human."
Pricing Plans
We tailor-make packages and pricing structures to suit your budget. No matter what your content needs, we can work out a plan perfectly aligned with your requirements.
Here's How Our Professional
Aerospace & Defence Writers
Can Help You
At Goodman Lantern, there are a number of factors that make us perfectly suited to be your preferred content marketing agency.
A Wide Network of Native-English Content Writers
Our large team of native English copywriters and editors have in-depth knowledge of your geography and industry. We have vast resources at our disposal, available to work across different time zones. So, no matter where you are based, we have a team that is able to assist you.

SEO Expertise
Our team is in the know about the latest in SEO rules and expectations. We write all online pieces with best practices in mind so that over time, your business ranks high in search results.

High Lead Generation
With our professional content writing and editing services, we develop solid leads for your team to follow up on. Many of these leads turn into customers. All of this because of top-quality content.

Experts at What We Do
Our content writers and editors are all experienced journalists and media experts. Along with our content team, we also have business experts that we lean on for business growth ideas and advice.

Ahead of The Trends
We are on top of industry trends and know how to use these to grow your business through content. We ensure that your business is ahead of the trends, too.

Personal Attention
No matter what your content needs are, we are able to create and deliver on time and with professionalism. We never miss a deadline and we work with you to ensure that we not only deliver according to the brief, but that we exceed expectations.
Aerospace & Defence FAQs
What do your Aerospace & Defence content writing services include?
The Aerospace and Defence industry works with highly technical and cutting-edge products and services. They need a marketing strategy that is equally competent. Goodman Lantern offers a variety of content writing and marketing services that can keep up with your content needs.
We use our substantial experience to produce exceptional website content, research content, and technical content. If you are unsure of where to begin, our team can help you with content distribution, strategy, and planning. In all our capacities, we help you better engage with customers and raise your brand awareness.
What types of Aerospace & Defence companies do you work with?
Aerospace and Defence stretch over various sectors such as military, space, and general aviation. We work with a wide variety of verticals within this industry, including commercial airlines, defence contractors, missile manufacturers, and satellite communication companies.
Each client and each project is different. So, our team takes the time to understand your company, your values, and your ethos to craft a content strategy that reflects you.
What are your technical aerospace and defence content writing services?
Technical writing is an effective tool to showcase your industry knowledge to customers, partners, and investors. It is slowly edging out traditional forms of marketing such as trade shows, marketing events, and advertising.
We offer a wide range of technical writing designed for your industry. Our aerospace technical writers are adept at crafting informative and well-researched white papers, case studies, research papers, and business plans. We also produce longer technical pieces such as eBooks, guides, and handbooks.
How would an Aerospace & Defence company use a blog?
Content is the building block for digital marketing. Different types of content help you achieve different goals. For instance, sharing relevant and interesting blog content allows you to increase organic website traffic and audience engagement.
With your very own blog, you are at full liberty to curate a premium content experience. You can share the latest avionics news, weigh in on the future of sustainability in defence, or discuss supersonic jets. As long as your readers are engaged, the blog is working.
However, maintaining a blog can be time-consuming. Let us help you out, whether it is with a quick article on smart automation in pilotless flights or an in-depth blog on IoT in aircraft maintenance.
How do you ensure my content reaches my audience?
Our team carries out extensive audience research and employs SEO tactics to craft an effective distribution plan. We use our research to identify the best combination of content channels for your target audience. We promote your content through these specific channels to ensure that it reaches the right people.
Our commitment to effective distribution does not end there. Part of our aerospace content writing services is to ensure you get measurable results. After publishing your content, we track and analyse metrics and make improvements, if needed, to help your content reach its full potential.
How does high-quality content help my business?
Aerospace and Defence is a highly competitive industry. Companies are coming up with innovative ideas to solve tough problems. To ensure their solutions get picked up for contracts, they need to market their brand and stand out from the crowd. Content can help with that.
Our Aerospace and Defence writing team delivers consistent and compelling content. They position your company as an influential thought leader and build a community of customers, buyers, and stakeholders around your brand. In the long run, this helps boost reputability, increase revenue, and build customer loyalty.
How do I get started?
Learn more about our Aerospace content writing services today! Book a call with us and find out how we can help grow your Aerospace & Defense business. Reach us at +44 3300270912 or email us at info@goodmanlantern.com.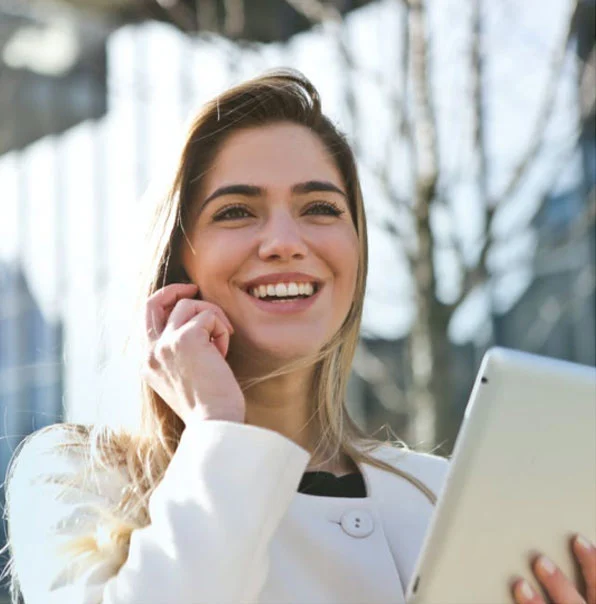 Get in Touch
Connect with us to take your Aerospace and Defence company to the next level. We will help you decide what the best content marketing approach for your business would be. Book a discovery call with us and we'll get started on a quick marketing audit to help you figure out your next steps.