Why Your Business Needs a Digital
Marketing Strategy
In today's world, where most people spend a significant amount of time online, having a digital marketing strategy has become essential for businesses of all sizes. Some reasons why your business needs a digital marketing strategy include
Reaching a wider audience
A digital marketing strategy can help you reach a broader audience than traditional marketing methods. By leveraging various digital channels, you can target customers interested in your products or services and drive more traffic to your website.
Building brand awareness
A well-executed digital marketing strategy can help you build brand awareness and establish your business as an authority in your industry. You can create a strong brand presence online by consistently producing high-quality content and engaging with your audience.
Increasing conversions and sales
With the right digital marketing tactics, you can drive more leads and sales for your business. Whether through paid advertising, email marketing, or social media campaigns, digital marketing can help you attract and convert more customers.
Measuring and optimising your results
One of the biggest advantages of digital marketing is the ability to measure and track your results in real-time. With tools like Google Analytics and social media analytics, you can monitor your campaigns' performance and make data-driven decisions to optimise your strategy.
Stay ahead of the competition
In today's competitive marketplace, having a digital marketing strategy can give you a competitive advantage. By staying up-to-date with the latest trends and technologies, you can differentiate yourself from the competition and stay top-of-mind with your target audience.
Our Digital Marketing Strategy
Development Services Include
Benefits of a Digital Marketing
Strategy
Global Online Reach and Visibility
Global online reach and visibility are crucial if you are seeking to expand your reach, grow your audience, and increase your influence. With a digital marketing strategy, you can connect with millions of people worldwide and access a global market, leading to more opportunities for growth, collaboration, and success.
Effective Targeting
Effective targeting helps to reach and engage with the right audience, increasing the chances of converting them into customers. By identifying and understanding your target audience's demographics, interests, and behaviour, you can tailor your marketing strategies and messages to resonate with potential customers, resulting in higher engagement rates, increased sales, and improved ROI.
Increases Results of Offline Marketing Tactics
A digital marketing strategy can increase the results of offline marketing tactics by complementing and amplifying their impact. Digital channels can be used to target specific audiences, increase brand visibility, generate buzz and engagement, and provide a seamless customer experience. This can enhance the effectiveness of traditional marketing tactics such as print ads, billboards, events, and word-of-mouth.
Lower Costs
A well-executed digital marketing strategy can result in lower costs by targeting specific audiences, maximising the use of resources, and increasing efficiency. It also allows for more accurate tracking and analysis, leading to better decision-making and cost optimisation.
Multiple Content Types
Using multiple content types in a marketing strategy can benefit businesses by increasing engagement with their target audience, catering to different learning styles, and providing opportunities to repurpose content across various platforms. It also helps to keep the content fresh and interesting, attracting and retaining a larger audience over time.
Increased Engagement
Digital marketing strategies like social media and email marketing can help you engage with your audience and build relationships with them. This, in turn, will benefit your business by improving brand awareness, increasing customer loyalty, driving website traffic, and ultimately leading to increased sales and revenue.
Market to New Target Audiences
Digital marketing allows you to target specific demographics and interests through various online channels like social media, search engines, email, and more. By utilising this data, you can reach new potential customers who may not have been aware of their products or services before, ultimately expanding your target audience.
Improve Online Presence
Digital marketing improves a company's online presence by using various tactics such as search engine optimisation, social media marketing, content marketing, and email marketing to increase website traffic and engagement. An established online presence increases your visibility, accessibility, and reach to a global audience.
Grow Your Market Share
A digital marketing strategy helps businesses increase their visibility, reach their target audience, and drive more conversions, ultimately leading to a larger market share. This is important because it allows businesses to stay competitive, grow their customer base, and increase revenue and profits.
Analytics and Optimisation
Following a digital marketing strategy can provide measurable data on the success of your campaigns. By tracking metrics such as website traffic, conversion rates, and engagement, you can gain insights into the effectiveness of your marketing efforts and make data-driven decisions to improve your strategies and optimise your campaign efforts, resulting in a better ROI and overall success.
Our Digital Strategy Solutions
Our Strategy Development Approach
The development of a digital marketing strategy involves several steps. At
Goodman Lantern, the process is based on the following approach
A Detailed Discovery Session
We kick the digital marketing strategy development process off by holding a discovery session with all relevant stakeholders and GL team members. This is where we learn more about your company and the requirements for your marketing strategy.
Defining the Target Audience
This is where we create business personas by identifying the ideal customer's characteristics, preferences, and behaviours. This can include age, gender, income, interests, values, and buying habits. Conducting market research and analysing data from existing customers can also help refine your target audience.
Conducting a Competitive Analysis
It is crucial to perform a competitor analysis to help understand the strengths and weaknesses of your competitors in the market. We start by identifying your main competitors and gathering information on their products, marketing strategies, target audience, pricing, strengths, weaknesses, and market share. We will then analyse this data to identify opportunities for differentiation and improvement in your business strategy.
Setting Marketing Objectives
Goals and objectives are crucial to the success of any marketing campaign. In collaboration with all relevant stakeholders, we will determine what your organisation wants to achieve through its digital marketing efforts.
Selecting Digital Marketing Channels
We will then choose the appropriate platforms and channels to reach your target audience to achieve the above marketing objectives. These channels can include search engines, social media, email, mobile apps, websites, and other forms of digital media.
Developing a Content Strategy
This is the crux of the marketing strategy, where we create valuable and engaging content that resonates with your target audience based on the steps above.
Allocating Resources
In this step of the marketing strategy development, we will determine the budget, the appropriate team, and the relevant technology required to execute the digital marketing strategy.
Measuring and Optimising Performance
By tracking key performance indicators (KPIs), we can continuously make adjustments to the strategy based on data-driven insights.
Why Should You Choose Us!
Goodman Lantern is a full-service content marketing agency with many years of experience in digital marketing strategy. Our team of talented strategists, writers, editors, and designers is experienced in several different content niches.
No matter the type of marketing strategy you need, we'll develop and execute a strategy best suited to your unique needs and engineered to boost your conversion rates.
Whether you are looking for a digital marketing strategy consultant or an agency to run the strategy for you, we can help.
Our approach to all our projects is one of flexibility and collaboration. We will tailor your marketing plan to your specific needs and requirements.
Our Clients Love Working With Us Because We Believe in Collaboration
At Goodman Lantern we're all about building long-term, successful relationships with our clients. We take the time to get to know their business AND the people behind the brand. In true collaborative spirit, we do everything we can to tell your story and help your business grow.
"Goodman Lantern has an unparalleled level of skill and talent, coupled with a keen understanding of implementation."
"Goodman Lantern successfully delivered content on time. The feedback and professionalism have been great. They are very effective."
"They helped me get on Kickstarter and produce video presentations and outreach videos for our different campaigns. They also did all of our social media work, driving traffic to the Kickstarter campaign and contacting lists of businesses in the pool industry. They helped us run a $45,000 campaign over two months."
Digital Marketing Strategy Agency FAQs
In simple terms, what is digital marketing strategy development?
Digital marketing strategy development is creating a plan for promoting a product, service, or brand using digital channels such as search engines, social media, email, and mobile apps. Digital marketing strategy services typically include an analysis of the target audience, competitors, and market trends, as well as a set of tactics and metrics to achieve specific goals such as increasing website traffic, generating leads, and improving customer engagement.
What digital marketing strategy services do you offer?
Goodman Lantern is a full-service digital marketing strategy agency, and we offer a wide range of digital marketing strategy services:
Buyer Persona Development
Creative Content Development
SEO and Paid Advertising
Website Auditing
Content Marketing
Social Media Management
Graphics Design
Branded Video Production
Translation and Localization
You can find more details on the above digital marketing strategy services and what digital marketing solutions we offer at the top of this article.
How do you measure the success of a campaign?
At the start of the digital marketing strategy development process, we work with you to set key performance indicators (KPIs). Depending on those, we use a variety of metrics and measures to track the following:
Conversion rate: This measures the percentage of visitors who take the desired action, such as making a purchase or filling out a contact form.
Click-through rate (CTR): This measures the percentage of people who clicked on a specific link or ad.
Return on investment (ROI): This measures the revenue generated compared to the amount spent on the campaign.
Engagement metrics: These can include metrics such as likes, shares, comments, and followers on social media platforms.
Website traffic: This measures the number of people visiting a website due to the campaign.
Cost per acquisition (CPA): This measures the cost of acquiring one customer through the campaign.
How does your agency stand out from the rest?
We are a specialised digital marketing strategy agency with a team of driven and passionate content strategists and creators who offer a wealth of industry experience. We start the digital marketing strategy development process by doing a deep dive into your company so that we can offer the perfect marketing solution for your particular needs. Having said that, our approach is flexible and collaborative, so we will work with you to reach your goals.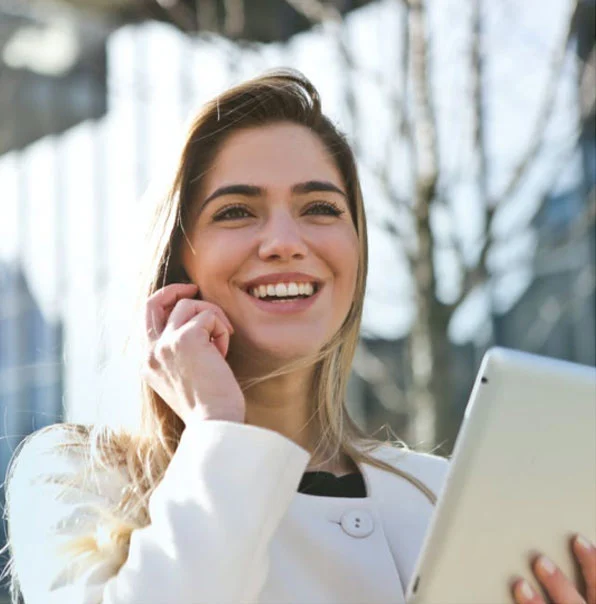 Get in Touch
Your ideal tailor-crafted brand strategy lies just a phone call or email away. If you're ready to take your business to the next level of success, we're here to help. Book a consultation call or email us with your brief, and we get started on planning your road to brand growth and success.
We've helped develop the voice behind
Hundreds of Businesses














At our core, we're a content marketing agency. But we have a bigger 'why' that supports what we do.
By choosing Goodman Lantern as your content creation partner, you're making a pretty big impact too. You're helping us to act with integrity by providing remote work opportunities to women, many of whom are the breadwinners of their families.
Want to have a bigger impact? Get in touch with us at impact@goodmanlantern.com or learn more.