Originally published May 5, 2022 , updated on January 23, 2023
Published Date: The date when the blog went live on GL website. Updated Date: The latest date when the GL Content team updated this blog.
When it comes to inbound marketing, educational videos are a powerful way to capture and keep your audience's attention. In fact, 83 percent of consumers prefer educational videos over written text.
But business support requires transparency and trust. Now, educational videos are a way to do just that. They do this by eliciting positive emotions that create customer-client connections. Here's how.
Impactful Educational
Videos Pack a Punch
A professional video content agency crafts quality educational videos to  capture your audience's attention and get your brand message across in seconds.
Next, they offer valuable information that resonates with the reader. This boosts brand credibility and garners consumer trust. The goal is to subtly encourage your prospects to engage with your content and invest in your services.
Since educational videos aim to offer valuable and insightful information, they must be clear, crisp, and thorough. A video marketing agency ensures your videos offer your audience exactly what they're looking for.
First, a video marketing agency does an analysis of your target buyer profile. They'll look at online trends, incorporate popular keywords into the video transcript, and post the video onto all the right platforms at just the right time.
Professional video marketing services also tailor the tone to match your business aims. Perhaps your video is aimed at growing your audience. Maybe it's directed at your existing audience, promoting a product and encouraging your subscribers to upscale. 
Either way, it's clear that educational videos are popular for a reason: they work.
What's more – 87 of marketers who use videos see a positive return on investment. But if you want results, these videos must tap into your audience's interest and speak to them in a way that resonates.
Let's give you an example. Think about video adverts on Youtube. Most people give them a couple of seconds before they decide to skip or stay. Now there's a difference between the ones you watch and the ones you waver. It's the relevance and tone.
If the video is hard-selling, it's considered invasive. Since you're likely targeting a long-term buyer or aiming to drive customer loyalty, you want your video to be inviting and informative before introducing any brand-related content. You want to build brand trust.
Still, the video's colour palette and tone stays true to your brand's identity. This way, educational videos create an experience by eliciting emotions associated with your brand, which makes your video and your services relatable, credible, and highly memorable.
Educational Videos Are A Worthy Investment
Educational brand videos are a mixture of entertainment and industry-specific information. They're fun and captivating, and since they're trending, they're more likely to be seen.
A video marketing agency attracts your desired audience as a strategic inbound marketing method. They do this using a transcript that incorporates keywords most likely to pop up in your prospective buyer's search engine results. Since these buyers are looking for what you have to offer specifically, they're more likely to attract the kind of leads that convert.
Educational videos also tap into your audience's desire to learn new things. Once they've captured your audience's interest, they begin the buying cycle by creating brand awareness.
Remember that the buying cycle has three stages: awareness, consideration, and decision making. That said, educational video services are a powerful way to begin this cycle and an effective way to get your target audience to the end of the sales funnel every time.
But if you want sales, you need to develop trust. Remember that pushy sales methods are considered spammy and likely to cause distrust.
As a result, expert agencies use educational videos to offer valuable information that attracts your customers and garners the trust of your audience. 
They deliver content in a way that resonates to foster company-client connection. This puts your prospects at ease when looking at what your brand has to offer.
Overall, educational video services position your brand as an authority in your industry. They attract a qualified audience and foster connections with prospective clients. This, in turn, garners traction and engagement, which pulls traffic to your site.
The Goodman Lantern
Production Process
Define Goals & Objectives
We start by defining your business aims. Are they to showcase your service packages to your existing audience, or are you tapping into a whole new target market? 
The strategy, the tone, and the content will dictate how we pull this project together. Our expert teams understand they need to answer your audience's questions, so they work together to do this while keeping your business needs top of mind.
Once we're clear on your business's objectives, we dive into the market research. This is where we get to know your industry and audience intimately.
Once our team has deciphered your targets and touchpoints, we'll thoroughly investigate your audience. We start by doing an audit of your competitors. We'll also get clear on where your business stands in the market. 
As a professional video marketing agency, we can even analyse your webpage and digital platforms. We'll ensure they're search engine optimised, that the loading speed is quick enough, and its design is eye-catching enough to keep clients on your site. 
Of course, the tone and style will suit your industry and target audience. Still, we never stray from your corporate identity. This means that no matter the content, your educational video stays true to your brand voice.
Now let's step into strategy. Here, our team tailors out the pain points to elicit your emotions and then subtly offers your brand as the solution.
We'll also slot your educational video into your wider inbound marketing plan. It'll include enticing CTAs and well-placed click-throughs that funnel your audience to your webpage right away.
Once we've done the planning, we put the project together. This can be timeous and intimidating – requiring specialised skills, equipment and software. 
At Goodman Lantern, our fully-equipped team has got it covered. We take care of all the aspects of production, including scriptwriting, filming, and post-production services – alongside unlimited edits and reverts.
Why Should You Choose Us?
Good educational video services garner trust that sets you apart from your competitors. Since they're one of the most engaging and most sought after content on almost all digital platforms, they're definitely worth the investment.
But video production is costly. This means you'll need an agency that understands the ins and outs of marketing and knows how to deliver these videos to your audience in a way that resonates with them best.
At Goodman Lantern, we have a fully equipped and versatile team that's quick, collaborative, and creative. Since educational videos require research, planning, production, and strategic distribution, it makes sense to work with a team that taps on all these touch points.
We're also unique in that we give you your own Project Manager. This means you stay onboard and in the loop at all times, making sure you're happy with the project and where it's heading.
Since subscription services are based on long-term relationships, your marketing efforts must focus on creating consumer trust. Educational videos do just that. 
They are a visually compelling way to communicate your brand messages by explaining your offers clearly and transparently.
The telecoms industry is the cornerstone of the modern economy. However, online content is cluttered. Nowadays, there is a multitude of options for consumers to choose from. 
Using educational videos sparks a connection with your target audience, fostering the trust required to set your business apart from its competitors.
Augmented reality services are highly beneficial to almost any industry. The only problem is that the software can seem intimidating. 
Educational video services aim to solve this. They give your company a human voice that fosters authentic connections with prospective clients and investors, making them more likely to reach out.
Our Clients Love Working With Us Because We Believe in Collaboration
At Goodman Lantern we're all about building long-term, successful relationships with our clients. We take the time to get to know their business AND the people behind the brand. In true collaborative spirit, we do everything we can to tell your story and help your business grow.
"They helped me get on Kickstarter and produce video presentations and outreach videos for our different campaigns. They also did all of our social media work, driving traffic to the Kickstarter campaign and contacting lists of businesses in the pool industry. They helped us run a $45 000 campaign over two months."
Owner, African Sunrise Safaris
"The team has been a pleasure to work with. Content is delivered on time, on-spec, and whenever we've provided feedback or suggestions, they have always been receptive and open to making changes with a quick turnaround."
Head of Content, A Small World
"What truly stands out about them (Goodman Lantern) is their seamless project management and content delivery, combined with a wildly diversified pool of experts. No matter what you need content for, if you want it written by native speakers, about complex topics, and delivered on time, Goodman Lantern is your best bet."
Co-founder, The Marketing Family
Educational Video Production FAQs
What can I expect from video marketing agency services?
Video marketing services should include excellent visual content that's backed by strategies that tap into your industry. Your educational videos should be enticing, attractive, and impactful.
These educational videos must also be search engine optimised and slot into a wider marketing strategy plan if you want them to be effective.
What is video marketing, and how does it work?
Educational videos fall under video marketing services. This can be explained as an experiential form of marketing. It connects a feeling to your brand. 
They aim to ensure your brand is credible and that its messages are communicated effectively. It's the level-up from normal content marketing. This is because videos are trending, easily shareable and highly impactful.
How much do your video marketing services cost?
This depends on your goals, needs and budget. At Goodman Lantern, we tailor each package to suit your unique aims.
We tap into each touchpoint and meet all of your requirements, adhering to your given budget and timeframe at all times.
Can you give us an example of video marketing?
Online courses, webinars, and how-to videos are all examples of educational videos.
How does a company promote their educational video?
The best video marketing services encourage your audience to get involved. They do this by adding enticing and well-placed CTAs or by offering incentives. 
Note that educational videos should be incorporated into a broader and well-linked marketing plan. This means that the company you work with must use social media strategically.
At Goodman Lantern, we craft crisp, clear, and cohesive educational videos that enhance customer credibility and boost your brand's reputation. 
If you're aiming to step up your marketing plan, please feel free to reach out. Our team is more than happy to hop on board and put together the perfect project for your business.
We've helped develop the voice behind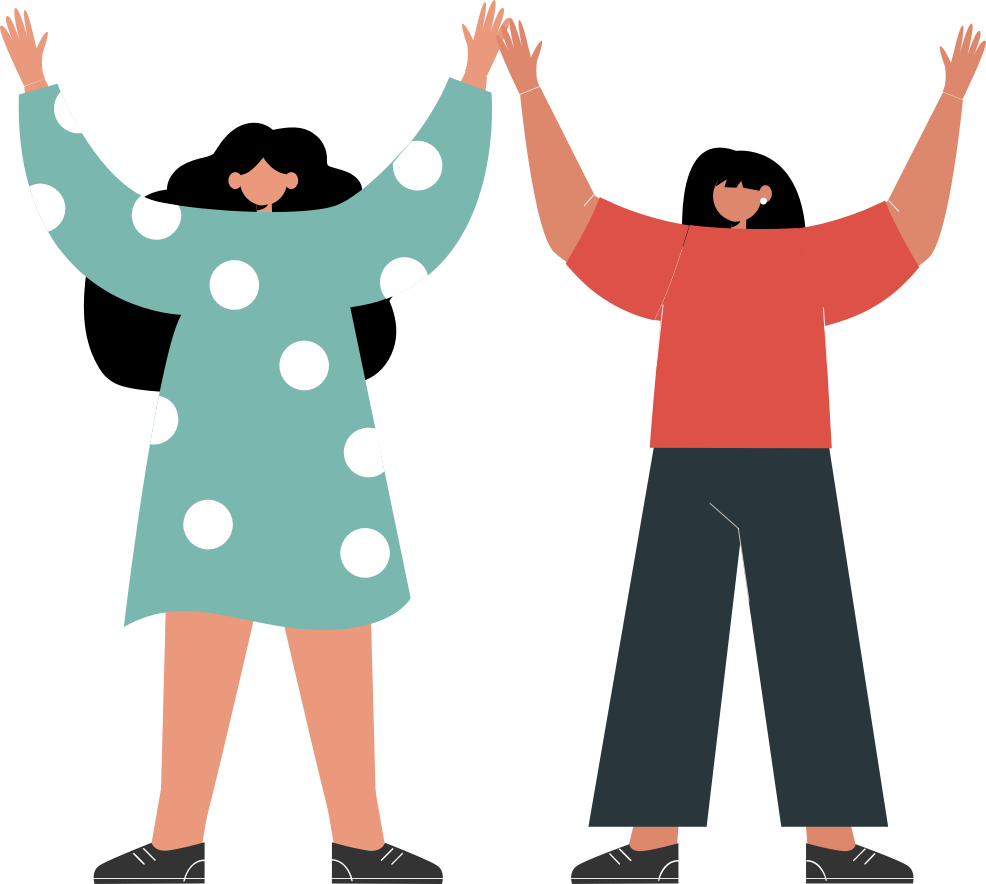 At our core, we're a content marketing agency. But we have a bigger 'why' that supports what we do.
By choosing Goodman Lantern as your content creation partner, you're making a pretty big impact too. You're helping us to act with integrity by providing remote work opportunities to women, many of whom are the breadwinners of their families.
Want to have a bigger impact? Get in touch with us at [email protected] or learn more.