Overview
Having the option to work remotely has become a priority for businesses around the globe. A survey showed that remote working increased output by 4.4%.
We've had to become adaptable. Workflow interruptions alongside a growing, globalised economy mean that connecting your staff, clients, and services online is central to workplace success. It's what keeps companies afloat and ahead of the game.
It's safe to say the working world has changed. Not just that, but with more businesses becoming virtual, the online economy has become more competitive than ever.
The demand for online services has soared. After all, they're safer, cost-efficient and most importantly, convenient. That's why platforms like HubSpot have become popular.
In case you need a recap, HubSpot is a digital platform
that can be used to manage your:
Sales and
marketing
Staff management
systems
Customer
relationship
processes
All from one place
This results in integrated work systems that better user experience and client satisfaction, which in turn help your business close more deals.
But HubSpot – as popular as it is, is a complicated platform to set up initially. The plans you choose and the settings you work with depend on your business type and current goals. You may even have data you need to migrate or move – and apps you'd like to connect to the platform. On top of that, you don't want to risk losing functionality during the onboarding process.
At Goodman Lantern, our HubSpot consulting services will get your company onboarded as soon as possible, streamlining your work processes straight away.
Why Your Business Needs HubSpot Onboarding Services
HubSpot is great, but a business will only reap its benefits if fully optimised. HubSpot development services ensure the platform is put to good use. All your existing data and apps are integrated, and the migration process will be smooth.
HubSpot is also known for being user-friendly. But it's only an easy tool to use once it's been set up. One of HubSpot's main selling points is that it can be customised, but this customisation process can be complicated.
Hiring a team that can guide you through this process makes the onboarding process quicker and your purchase a worthwhile investment.
The team can help you set up, create email and marketing templates, and automate your workflow process. They can even set up your analytical tools and systems, which allows you to measure your web traction and marketing results.
This setup process could take months if you're inexperienced. This will only prolong your return on investment. It could even slow down or interrupt your workflow.
Shifting your business processes to a new platform can be confusing, so our consultants will train your team as part of the onboarding process as part of our HubSpot management services.
You may also have existing data, websites, and other work processes that you want to streamline and update. You'll want to do this without interrupting your current workflow.
We'll ensure the process is seamless without impeding your company's ability to deliver its goods and services effectively. We'll aid in data migration and automation quickly. That way, your team can focus on the job at hand, making the process effortless.
We'll set up data and conversion tracking methods. These are different for different businesses and will reflect inaccurate results if they are wrong.
We'll update and automate your workflows. We'll also get your templates ready. Setting up these initial services are complex, but once set up and optimised, it's smooth sailing from then on.
At Goodman Lantern, our HubSpot development services will take the burden off your team. After all, they're busy enough already.
Ultimately, HubSpot onboarding services will help your business generate leads, better user experience and promote in-house efficiency. This is sure to upscale your business.
What We Do
At Goodman Lantern, as part of our HubSpot development services, we start by going through your business model. We'll look at your business goals and challenges and then map out a strategy to help you meet them.
Our HubSpot management services get you onboarded quickly. We'll help set up your marketing strategies, sales, and services processes, and we'll even update your current CMS.
These services and functionalities depend on the HubSpot plan you choose. If you're unsure which one will suit your business best – we'll guide you through the selection process too.
Marketing Hub Onboarding
First, our team gets you onboarded and set up on the HubSpot platform. We'll do complete data migration and connect beneficial apps and platforms that work alongside your current marketing plan.
Next, we'll pull all your marketing strategies to the HubSpot platform. This means they can be managed from a single place.
We'll also set up analytics systems that help you track your growth. Lastly, we can design beautiful templates for your marketing services, like your mailers. Overall, we'll customise your entire marketing plan.
Sales Hub Onboarding
Our team sets up your automated sales services. We draw up a map to help your business reach its short and long-term goals. We set up your account, optimise your software systems, and invite your team members to the platform.
Next, we personalise the processes and your business settings, doing a secure data import. We'll also review your current systems and update them. Lastly, we'll set up your live chat and automate your sales processes.
Service Hub Onboarding
As part of our HubSpot consulting services, our expert team will set up your automated services processes to better user experience, drive client satisfaction and promote client retention.
We integrate work processes that achieve your customer service objectives. We can even measure and improve your customer experience overall.
Next, we'll configure your customer notification and ticketing systems. We can even automate these ticketing services, making your customer service fast and highly efficient. We'll even set up client feedback surveys.
CMS Onboarding
Customer management services are critical in successfully driving new leads and ensuring customer retention.
We'll run an audit on your current strategies update and improve them. We'll then optimise your web, blog and content strategies to promote leads and conversions. We also offer traffic and web analytics to keep your business informed and make any changes along the way.
How Goodman Lantern Helps in
HubSpot Services
At Goodman Lantern, we offer HubSpot management services that set up your HubSpot platform, customising it to your specific business goals and aims. We can even help your company choose a HubSpot package that suits your business.
Once you've selected a package, we'll run an audit to assess your existing business processes. We get clear on all your touchpoints and targets before beginning the initial setup.
We choose what apps to focus on during the setup process and customise these settings. We ensure a smooth migration process, integrating apps and data that you may already have without interrupting your current workflow and systems.
Since we value collaboration, we keep you involved. You'll have direct access to your project manager throughout the whole process. This means you can ensure the project stays on track and that you're satisfied with the results.
Once the functions have been set up, customised and automated, we'll then train your staff on how to use them.
We can even set up apps that monitor progress to ensure you're getting results and stay updated on where to improve.
Our talented designers will set up beautiful templates for mailers and marketing campaigns. Our strategists will suggest and make changes to ensure system efficiency and maximum growth output.
Our multifaceted team collaborates with you, bringing together a series of different skills. We choose the best systems that streamline and ultimately upscale your business with sound knowledge in design, marketing, strategy, and tech.
Why Choose Goodman Lantern?
At Goodman Lantern, our highly effective team is remote-based and set up to work from around the globe. Since we have a remote team – we know how to set these systems up best.On top of that, our diverse team offers various skills. We're experts in software, strategy, marketing, communication and design.
This means we can offer a unified, multifaceted approach that gets your business systems integrated and connected fast. We effectively connect your processes, your staff, and your customers to your brand.
Our excellent turnaround rates and client satisfaction speak for themselves. We're also transparent. We'll track your growth outcomes and share these with you since, ultimately, our goal is to help your business grow.
Our Clients Love Working With Us Because We Believe in Collaboration
At Goodman Lantern we're all about building long-term, successful relationships with our clients. We take the time to get to know their business AND the people behind the brand. In true collaborative spirit, we do everything we can to tell your story and help your business grow.
"Goodman Lantern created best-in-class technological deliverables, strategised impactful avenues for business growth, and delivered effective tools to pitch the app to investors."
"Whenever we've provided feedback or suggestions they have always been receptive and open to making changes."
"We are delighted with our collaboration with Goodman Lantern because in addition to always delivering the content on time, they have also been extremely responsive to all our requests. Moreover, it was a real pleasure to work with a team that is both very professional and fundamentally human."
Professional HubSpot Onboarding Services FAQs
Why Use HubSpot?
Using HubSpot Is An Excellent Way To Automate Your Workflow. You Have The Benefit Of Running All Your Online Services Off A Single Platform. This Is Highly Effective And Helpful In A Highly Competitive And Dispersed World.
It Makes Your Business More Efficient And Has Better Client Satisfaction. Everyone Knows AI Can Do What Humans Can't – So Why Not Make Use Of It?
What Does The Onboarding Process Entail, And Is It Necessary?
The Onboarding Process Is Necessary. Without It, You Could Spend Months Adapting Your Current Services To These New Ones. This Could Cost Your Business Valuable Time And Energy That Could Be Saved By Hiring A Professional To Do It For You – Generating Leads And Saving Time And Costs.
Do You Help With Tech?
We Do. We'll Ensure Your Tech Set-Up Corresponds Perfectly With The Package You Choose. We Can Install New Technology If It's Recommended And Needed.
What Happens To My Existing Platforms And Data?
We'll Migrate It To Your New Platforms, Ensuring No Critical Information Is Lost Along The Way. We'll Also Integrate Platforms That Cannot Be Migrated Onto The HubSpot Platform Directly.
How Long Does The Onboarding Process Take?
Depending On Who Does It, It Could Take Hours, Days, Or Weeks. Of Course, Since We're Experts, We'll Get It Done As Soon As Possible.
Is This Information I Share With You Protected?
Yes. Your Data Is Protected. We Adhere To The Terms And Conditions You Sign When Onboarding With Us, Which Means We'll Never Share Or Sell It. All Your Information Fed Through HubSpot Is As Per Their Private Policy And Customer Terms Of Service.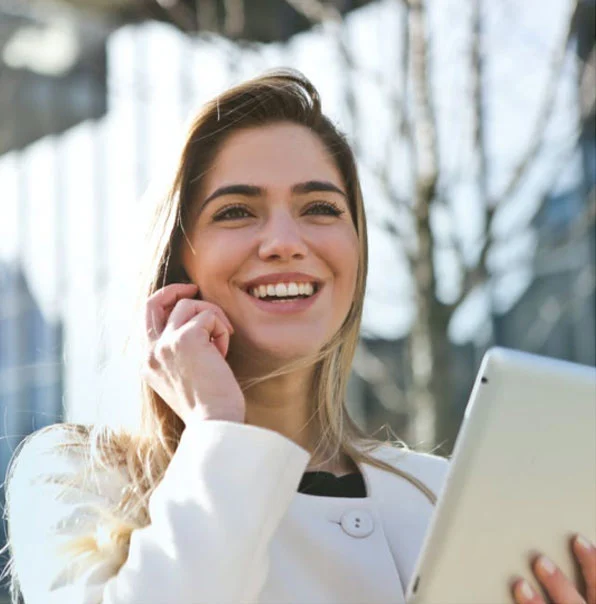 Get in Touch
Are you ready to up-scale your business? We will help you decide what the HubSpot deal is. Book a discovery call, and let's connect.
We'll guide you on how to best connect your customers to your company – streamlining your systems and improving customer service and satisfaction, which is bound to boost your business.
We've helped develop the voice behind
Hundreds of Businesses