Originally published March 24, 2022 , updated on January 23, 2023
Published Date: The date when the blog went live on GL website. Updated Date: The latest date when the GL Content team updated this blog.
Captivate both current and potential customers with professional scriptwriting. Position your brand as an authoritative figure in your industry, increase your visibility, and improve your lead generation with original and inspiring scriptwriting.
Inspire & Connect Your Audience with Quality Scripts
No film, podcast, advert, or interactive videos are effective without an expertly crafted script.
A script is designed to attract your target audience, entice them with solution-driven and innovative information, educate them on your brand or offering, and encourage them to act.
As a professional script writing agency, we understand the magic that needs to go into each written piece to convey your desired message and receive your targeted outcome. We curate scripts for various media formats, businesses, and industries that bring your unique idea to life.
Whether you're a start-up looking to create a memorable podcast or a major corporation wanting to advertise your latest product, we've streamlined our scriptwriting services to offer you the very best.
Benefits of Script Writing Services
There are numerous benefits to incorporating professional scriptwriting into your content. Not only will you have the ability to share your message, but you'll add a deeper layer of credibility and authority to your brand as a whole.
Engaging and information-packed scriptwriting is aimed to educate your audience members. Using concise and relatable copy both entices and informs your audience members and helps them develop a level of trust for your business.
Releasing various types of media and content formats, such as videos and podcasts, already places your brand on the digital map. But when your content is crafted with expert scripts, you become a memorable and persuasive brand.
Professional script writing raises your brand's awareness and visibility and showcases your company's versatility and professionalism. These elements are neatly tied together to create an effective funnel that increases lead generation and boosts sales.
Captivating scriptwriting is the difference between good content and brilliant content. Our scriptwriting services are aptly designed to entrance your viewers and keep them returning for more.
Why Your Business Needs Scriptwriting Services
Scriptwriting is not a task that anyone can perform. Even professional writers who aren't versed in scriptwriting struggle to craft the perfect blend of factual information and storytelling to captivate audience members.
That's where we come in. Expertly written scripts require a high level of skill.
At Goodman Lantern, our team of talented scriptwriters is fluent in the technical rules and storytelling abilities required to produce truly inspiring, educational, and captivating scripts.

Outsourcing your script and screenwriting to us will help you save both money and time. As experienced writers, we curate innovative, authentic, and entertaining scripts guaranteed to attract and entice your desired audience members.
Why Choose GL Scriptwriting services?
A Network of Native-English Content Writers
Our globalised team of native English writers and editors are experts in screen and scriptwriting for various industries. We curate scripts and media content across time zones with many resources and a streamlined working strategy. Our team can help your company grow with memorable and striking scriptwriting no matter where you're based.
Our script writing services will stay up-to-date with the latest digital trends and online expectations. With a team that analyses your target audience's media behaviours and habits, as well as your business goals, we find the perfect blend and balance between both.
Our scriptwriting team curates copy with lead generation in mind. We develop engaging copy that encourages action from your audience members, turning them from general readers into loyal customers.
Experts of Every Industry
Not only do we have professional scriptwriters and editors, but also business experts who assist us with research. Our team of journalists, media leaders, and industry-savvy professionals ensures that all of our content is relevant and fresh.
Our team of professionals understands the ever-changing environment of digital trends and knows how to harness them to help your company grow. We assist your business in staying up-to-date and improving visibility.
Your company's needs are our command. Our expert copywriters know how to craft ever-green content that is original, authentic, and engaging. Whatever your business requires, we can provide copy with zeal and professionalism. We never miss a deadline and always follow our dedicated briefs.
Our scriptwriting professionals craft persuasive narratives that enable SaaS companies to stand out in a crowded marketplace. We can help position your business as an authoritative figure and thought-leader in your industry with expertly crafted copy.
SaaS is rapidly increasing in popularity, and more people rely on cloud-based subscriptions. In light of this, companies need to connect with and inform their audience through engaging content.
Goodman Lantern provides scriptwriting services that turn any media content into an entertaining and enticing show, one your audience members can both grasp and relate to. This helps your company boost relationships with your readers and users, gaining both loyalty and trust.
Our team of professional scriptwriters ensures all SaaS content positions your services as innovative solutions that benefit your current and potential customers. We can help you bolster your online conversions, increase your visibility, and encourage readers to take action with authentic and magnetic scripts and screenplays.
In this day and age, growth is driven through customer engagement, which is further enabled through innovative content. With a heavy reliance on communication, the telecommunication industry is growing every day. However, the industry can be complicated to understand and remains a saturated market.
You need professional and enticing content to increase visibility and position your company as an expert. That's where we come in. Our team of seasoned scriptwriters and detail-oriented editors can help position you as a thought leader in the telecommunication industry.

With the curation of engaging and magnetic scripts and copy, we can demonstrate your company's values, quality of services, and impact in an ever-changing industry. Let us help you expand your audience base, boost conversions, and generate more leads with informative content.
Goodman Lantern offers virtual and augmented reality scriptwriting services that help scale businesses. Augmented reality is the technology industry's future, and it's expanding rapidly. Your company needs engaging and informative content to stay relevant and place yourself as an expert in the field.
With an evolving industry comes a versatile customer base and audience range. Your business needs expertly crafted scriptwriting for new, innovative content to shift readers into loyal customers. As a scriptwriting agency, this is our speciality.
Our team of professional scriptwriters is fluent in creating content that inspires audience members and positions your company as a leader in the market. So, if you're ready for your company to reach the next level of success within the augmented reality industry, we're here to help.
Our Clients Love Working With Us Because We Believe in Collaboration
At Goodman Lantern we're all about building long-term, successful relationships with our clients. We take the time to get to know their business AND the people behind the brand. In true collaborative spirit, we do everything we can to tell your story and help your business grow.
"Goodman Lantern delivered everything that I asked and they committed to. They were also great communicators during all parts of the process."
"Whenever we've provided feedback or suggestions they have always been receptive and open to making changes."
Head of Content, A Small World
"Outsourcing is fraught with dangers but somehow Goodman Lantern makes it so seamless. It's not just the final delivery that is impressive but their constant feedback and re-framing of the brief, which is where the real value add and efficiency is."
Scriptwriting services FAQs
What is your scriptwriting process?
First, we analyse your business goals, needs, and target audience. Our talented team of writers then gets to work on sculpting the perfect script to suit both you and your audience members. 
Once crafted and complete, we help you distribute and implement your script with your content. When your script has been released alongside your video, podcast, or other content formats, we host a reporting session to analyse the reactions received.
Who owns the copyrights to the work produced?
As the business owner/employee and as the customer, you own the copyright to any work produced.
Why must I hire a professional company to write my scripts?
Scriptwriting is unique in its technical aspects, and each word needs to be carefully selected to perform the correct task your entire content type sets out to do. 
If not done correctly, your script could ruin your content efforts and even hamper your business reputation. That's why it is of the utmost importance that you outsource your scriptwriting to professionals.
Do you have a portfolio of previous work?
How long does it take to create a script?
While it depends on the project's entirety, it generally takes our writers half a month or two weeks to produce a well-rounded script.
What types of industries do you serve?
Ready to uplift your brand, attract new customers, and generate more leads with captivating scriptwriting? We're here to help. Pop us an email or book a discovery call, and we'll start taking the first steps towards creating the perfect script for you.
We've helped develop the voice behind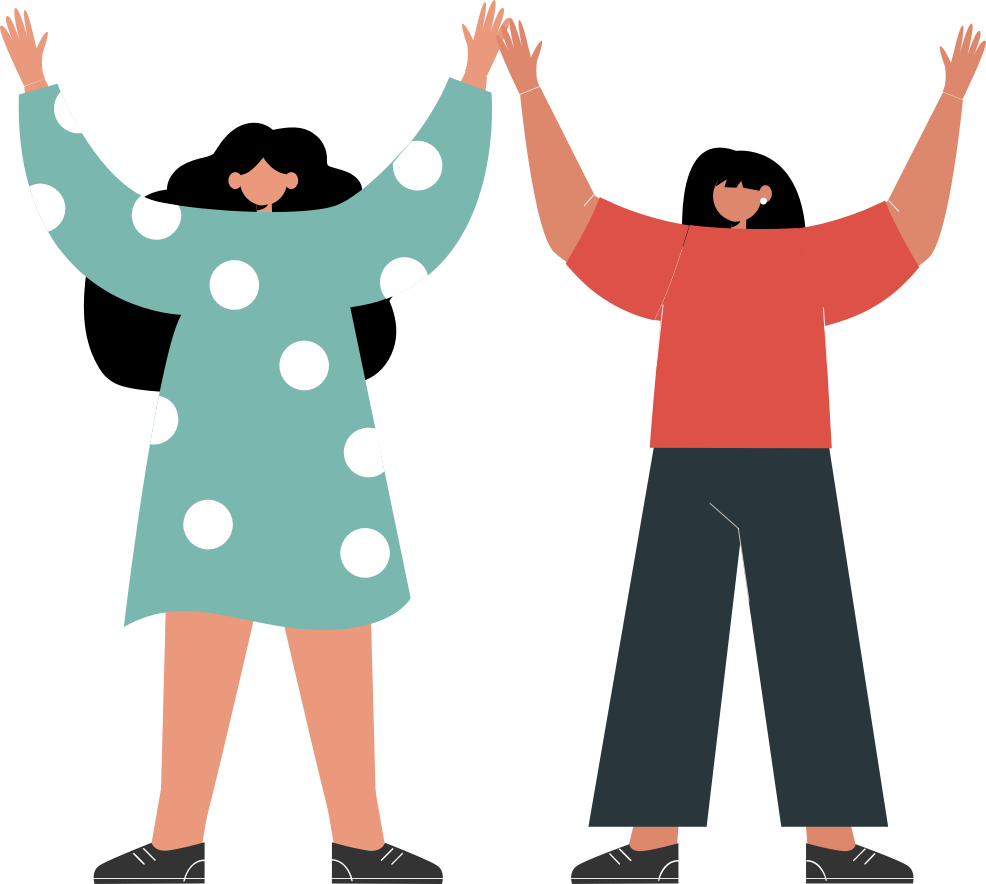 At our core, we're a content marketing agency. But we have a bigger 'why' that supports what we do.
By choosing Goodman Lantern as your content creation partner, you're making a pretty big impact too. You're helping us to act with integrity by providing remote work opportunities to women, many of whom are the breadwinners of their families.
Want to have a bigger impact? Get in touch with us at [email protected] or learn more.